Four Intense Outdoor Yard Games Not to Miss This Summer
by Brian Vaszily, founder of IntenseExperiences.com
My all-time favorite backyard game was banned.
Like many children of the 1970s, I could spend hours playing Jarts ... despite the warnings from my Mom to "be careful with those things!"
On summer weekends, my Mom, Dad, sister and I would often pack up the car and head 50 miles west of Chicago to my grandparents' 20 acre farm; one of the many reasons I looked forward to those trips was Jart competitions on their spacious lawn with my sister, cousins and anyone else who wanted to play.
In Jarts, also known as yard darts or lawn darts, you had two darts per team -- each Jart typically 12 inches long with a pointy, weighted metal-tipped end and three plastic fins protruding out the other end -- that you tossed across the yard and tried to land inside a distant plastic ring.
The team that landed the most Jarts inside the rings after a certain number of rounds was the winner. Although my sister and cousins don't remember it that way, I was usually the Jarts champion, and perhaps the greatest Jarts player of all-time.
Jarts were banned because -- just as Mom warned -- with their pointy steel tips they really were dangerous. There have been three deaths attributed to them in the U.S., in fact, as well as many serious head and other wounds. On December 19, 1988, all lawn darts were banned from sale in the United States by the Consumer Product Safety Commission ... the right thing to do, but a sad day nonetheless.
While the Soft Air Darts that replaced Jarts are not quite as fun as the original -- for one thing, you can't really threaten your cousins to admit you're the greatest Jarts player ever with those soft tips -- they are still good enough to make this list of intense backyard games below.
This list, by the way, is NOT all-inclusive: I've left out all of the "obvious" classics that everyone already knows can make for some intense pre- or post-cookout enjoyment, such as horseshoes, badminton and volleyball.
Instead, in descending order to number one, I've included four that are somewhat less-common and that I can virtually guarantee will create some seriously fun electricity in your backyard ... or at the beach or your next picnic.
Four Yard Games You Don't Want to Miss
(in Descending Order)

#4) Jai-Alai Scoops
Jai-alai originated in Spain's Basque region. The "real" version of the game is played in a three-walled court with a hard rubber ball that is caught and thrown with a "cesta" -- a long, curved wicker scoop strapped to one arm.
In the United States, Jai-alai is quite popular among gamblers in Florida where it is used as a basis for pari-mutuel gambling. In fact, professional Jai-alai in America originated at the Miami Fronton.
World Jai-alai, which is based in Miami, has promoted the most extensive amateur Jai-alai program ever, with a number of schools in Spain, France and one in Miami, Florida
While the game of Jai-alai is quite intense and can be dangerous, American families are enjoying the more leisure edition known as Jai-Alai Scoops, which you can learn more about and order here. In this fun backyard game, players face each other and a plastic ball is thrown and caught freely between opponents.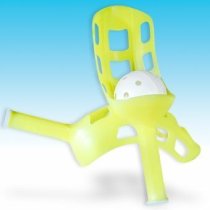 #3) Soft Air Darts
Yard Darts were first introduced around the end of the 1950's. They were enjoyed by a privileged few who had ample backyard space and could afford pastime luxuries. Those few were apparently very few -- by the mid 1960's, the supply for these darts was cut off due to lack of demand.
The 70's came along and new single family homes equipped with large backyards swept the nation; yard darts were reintroduced and became widely popular.
As stated above, the original metal-tipped yard darts are no longer available for sale, replaced by these Soft Air Darts.
The game is quite simple. Simply launch the soft, safe air darts at the two ring targets to try to score. Sounds peaceful enough, but you'll soon find the competitive souls at your family backyard barbecues embroiled in heated games (and you may find yourself thinking it's a good thing those sharp steel tips are a thing of the past.)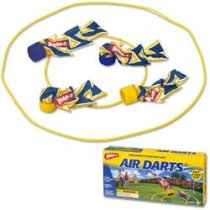 #2) Blongo Ball
One of my new favorites is Blongo Ball, which puts a new twist on outdoor gaming.
Originally patented from a retired couple that likes to travel, fish, and obviously invent yard games, Blongo Ball is now starting to take America's backyards and parks by storm.
As singles or teams, you score or take points from an opponent by landing Blongo Balls (two golf balls connected by a string) on Blon Goals (PVC pipe connected to make a three-tiered ladder). Each ladder tier is worth different points. The first player or team to reach 21 points, wins. Easy to learn, easy to carry, easy to store ... and often impossible to stop playing.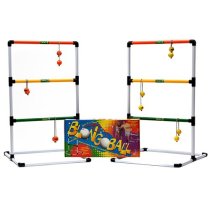 #1) Baggo
Call it Cornhole, Corn Toss, or Baggo, but no matter what name you use -- and it usually varies depending on what state you live in -- this highly addictive tossing game is incredibly popular.
Several years ago very few Americans had ever heard of Baggo. Today, thanks primarily to word-of-mouth, Baggo is seen at tailgate parties for ballgames, in parks, on beaches, and in many neighborhood yards.
The game itself is easy to understand.
Players take turns tossing a small bag filled with dried corn at an angled plywood target. The scoring system is simple and everyone from little ones to their great-grandparents can understand the rules and take their turn tossing the bags.
Be prepared, though, for your outdoor events to go much longer than you intended when you pull out the Baggo... or be prepared to politely send your friends and relatives home, telling them they can finish their championship game "next time."