The Five Best New Amusement Park Roller Coasters of the Year

by Brian Vaszily, founder of IntenseExperiences.com

"Please let me be taller than the striped stick, please, please, please!"

As a child, that phrase repeatedly poured from my lips whenever I was headed to an amusement park with my family.

You'll recall that if you're as tall or taller than the striped stick, you can get on the really cool roller coasters. If you're not as tall as the striped stick -- tippy-toes don't count, but it's worth a try -- your day is ruined and its back in tears to the merry-go-round and stupid kiddy area.

I still remember the first time my head edged above that height-requirement stick: it was for a roller coaster called The Tidal Wave at Marriot's Great America (now Six Flaggs Great America) in Gurnee, IL, just outside Chicago. I felt cool and made sure my friends -- especially my short friends -- heard every detail of that upside-down-loop ride for months afterward. By the end of summer, my version of that roller coaster was far greater than the coaster itself.

Since then I have been a roller coaster afficionado ... not quite in the "addict" category, but close.

As experiences go, riding coasters may not be life-transforming (although waiting for Cedar Point's Top Thrill Dragster to launch you from 0 to 120 MPH in four seconds and then take you 420 feet straight up and then straight down, you do find your life flashing before your eyes and you do pray hard), but they are intense fun.

At age 37, my body is increasingly telling me that it doesn't approve of this hobby -- after a headbanging ride on a good wooden roller coaster, in fact, it begs me to take up golf instead. But I still join my wife and two teenage kids at least twice a year to hit the big roller coaster classics at any amusement park we can get to, and to try out some of the best new coasters.

After extensive research, including the word-of-mouth of roller coaster fanatics at many different sites on the Internet, below are five top must-rides out of many dozens of new coasters at amusement parks throughout North America.

I've already been on one this year -- The Firehawk at King's Island in Cincinnati (home of THE legendary wooden rollercoaster, The Beast) -- and it is one of the most delightfully disorienting I've ever been on ... quite worth it.

Every year we try to make a trip to the roller coaster capital of the world, Cedar Point in Sandusky, Ohio, so I should be able to experience The Maverick below in its rookie year, too.

But even at my age, I still wish -- with that same excitement of a child -- that I could try all of the rest ... ALL the new coasters everywhere for 2007 ... RIGHT NOW. And at 6 foot, 3 1/2 inches tall, I know I'd be able to get on every single one of them.

****************************************************************

The 5 Best New Rollercoasters for 2007

The Maverick

The Maverick, found at Cedar Point Amusement Park in Sandusky, Ohio, is a two minute and 30 second ride that takes place on 4,450 feet of steel tubular track. Linear synchronous motors propel the train to the top of a 105-foot-tall first hill and from there, it's not straight down – it's more than straight down! Maverick pushes passengers down to earth at an astonishing 95-degree angle at speeds of up to 57 MPH and to within five feet above the ground! With top speeds of 70 MPH, the Maverick also has two 360-degree corkscrew rolls, one 360-degree heartline roll, and one 400 foot-long tunnel.

The Maverick is Cedar Point's 17th coaster, more coasters than any park in the world.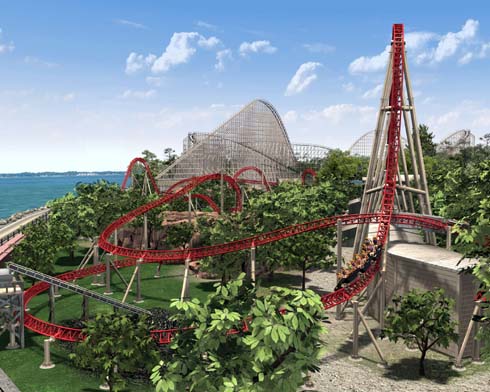 ****************************************************************

The FireHawk
Now you can really fly! The FireHawk, found at Kings Island in Cincinnati, Ohio, is a two minute and 30 second ride that takes place on 3,340 feet of track and reaches a height of 115 feet. Willing adventure seekers lie down on their backs to experience this 51 MPH, top-secret, all-altitude airborne mission. But they're definitely not relaxing – within seconds of creeping up the first hill as they lie on their backs, the ride twists and all flyers are now facing the ground, experiencing the inconceivable feeling of human flight.
I am now the proud owner of an "I Was a First Flyer on the FireHawk!" tee shirt. My family and I happened to be there on the FireHawk's grand opening day, and yes, the excruciatingly long wait in the heat was worth the ride's two minutes and 30 seconds.
****************************************************************
Mystery Mine
The Mystery Mine at DollyWood in Pigeon Forge, TN has everyone wondering "what if there's no light at the end of the tunnel?" This two minute and 30 second steel coaster soars at speeds of up to 60 MPH on 1,811 feet of track. Patrons travel through an abandoned coal mine and experience unforeseen encounters and amazing maneuvers, including a 95-degree, 85-foot vertical drop that plunges into darkness!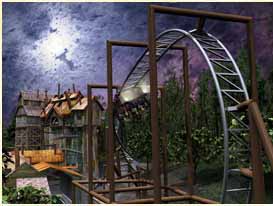 ****************************************************************
The Renegade, a wooden coaster found at Valleyfair Amusement Park located in Shakopee, Minnesota, is 104-feet tall and features a 91-foot drop with a top speed of 52 MPH. The wooden track spans 3,113 feet and features 19 turns and 10 crossovers as guests experience this two-minute ride that includes the first ever twisting first drop, a low-to-the-ground high-speed S-turn and a high-speed station fly-by.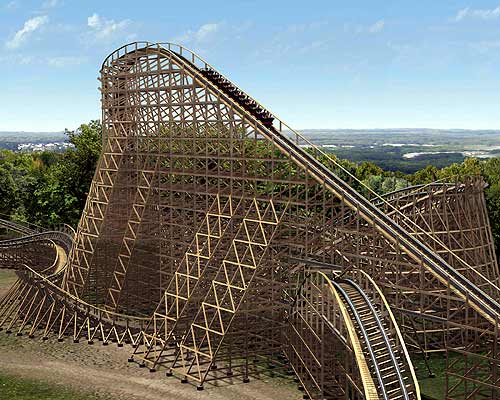 ****************************************************************
Tony Hawk's Big Spin
Tony Hawk, the skater dude that just so happens to be one of the greatest action sports athletes of all-time, has been a household name since the late 1990's (especially households with boys). You don't have to look very far to find several editions of Tony Hawk video games, the "Hawk" clothing and shoe line, Tony Hawk DVD's that share all of his personal tips and advice, and of course, Tony Hawk skateboards. Mr. Hawk has decided to add to his extensive collection with the new Tony Hawk Big Spin.
The Tony Hawk Big Spin is found at two different theme parks, Six Flags Fiesta in San Antonio, Texas, and Six Flags St. Louis in St. Louis, Missouri. This "family ride" is NOT another mega monster coaster -- it lasts 1 minute and 51 seconds and has top speeds of only 31 MPH -- but it does offer a lot of skateboarder-like twists and turns that roller coaster buffs will love.